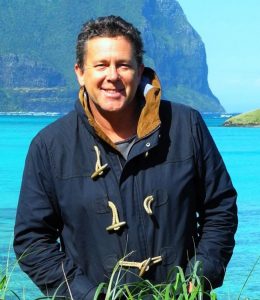 Australia appoints Farmer as Beach Ambassador
After a lifetime of exploring and protecting the world's best beaches, Queenslander Brad Farmer has been appointed an Aquatic and Coastal Ambassador by Tourism Australia.
Born with sand between his toes on Australia's surfing and tourism capital – the Gold Coast – Farmer has been an iconic figure in promoting beach culture for decades.
"Australia is really just one big beach," he says. "Each of our 11,761 magnificent beaches is unique in nature, so this is one easy destination to sell to the world," he said."Unlike my fellow tourism Ambassador (surfer and action actor Chris Hemsworth), I don't think I'll be gracing any billboards anytime soon, but I'll be honoured to bring all I can to this Ambassadorial role for my country."
Farmer believes that Australia is not achieving the international kudos it deserves for its aquatic and coastal resources.
"It's incontestable that Australia has the best beaches in the world," he states.
Farmer questions why Australia is always relegated to the lower ranks of the world's best beaches listings on many popular international websites and the voting system by which the 'best' is dubiously evaluated.
"Everyone knows we have the very best, cleanest and uncluttered beaches, including 1200 pristine surfing beaches.  I will strive to have the world acknowledge at least three Australian beaches are in the world's Top 10 and am suggesting the world's beaches are assessed by an impartial panel of judges."
Farmer began writing about beaches as an advocate and commentator in 1985, traveling to every accessible beach in Australia.  His books have been best sellers and his coastal advocacy award-winning as founder of multiple not-for-profits, including Surfrider Australia and Surfing Reserves.
Tourism is a vital contributor to the success of the Australian economy and the beach tourism experience is a multi-billion dollar driver for our cultural development as a nation, and a great influence on the lives of all 24 million beach-loving Australians.
In fact, nearly one million Australians owe their job directly or indirectly to tourism.
"Beach tourism here is the most desirable in the world and a great focal point for Australia – as much as the Olympics has been for Brazil."
"It's our challenge that we continually seek new ways to tell our story and encourage people to discover and explore our jewels on this, the world's finest, Treasure Island."
Farmer is currently travelling Australia updating his 101 Best Beaches benchmark book (with Prof. Andy Short OAM), published by NewSouth Press.
Australia.com remains the largest destination Facebook page in the entire world.
Further: James Bonnor (+61) (0) 478 779 775 / Brad 0413 031870
info@101bestbeaches.com | 101bestbeachesAU