Coast to Coast: Adelaide to Darwin
Irene and I have just completed a trip across the heart of Australia on the Ghan courtesy of a lovely gift package from our family. I think they felt we needed to get away from our coastal world and experience the vastness of the continent. Of course they were right but that didn't stop us enjoying coastal features at either end of the voyage.
Travelling on the Ghan is an experience tailored for those of a "mature" vintage. This railway monster with its 29 carriages provides for all needs both on the train itself and for "off-train" ventures. It takes 3 days to go 2979 km involving 2 nights blissful sleep. A sunrise stop at Marla just south of the NT border allowed us to wander off amongst the mulga; an afternoon visit to the Desert Centre at Alice Springs offered us insights into First Nations understanding of desert cultures; and 6 hours at Katherine got us excited with the incredible geology of Nitmiluk Gorge.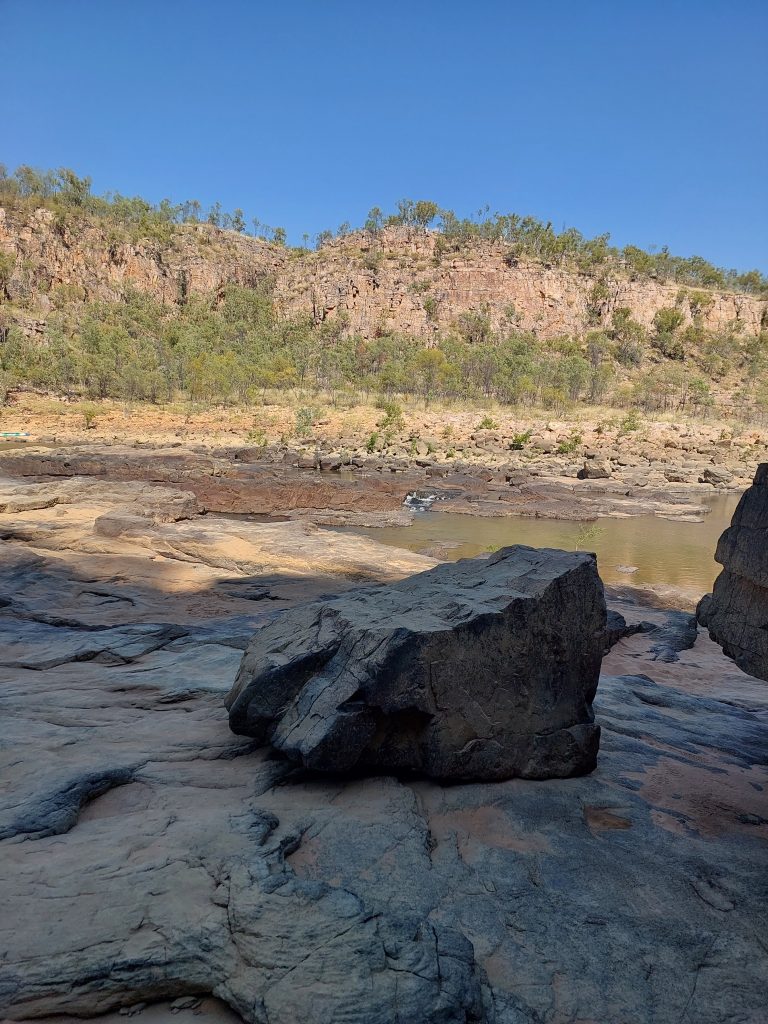 A traverse across the country from south to north during winter passes through a number of climate zones with changing landscape features and differences in early morning temperatures. It makes one appreciate and respect those who have lived and worked in these lands and how they adapted to the different conditions. First Nations peoples developed ways to thrive over millennia; rock art dated c.10,000 years at Nitmiluk is testimony to their identification with country. The fortitude of explorers like Stuart; the efforts of Afghan cameleers and workers who later built the railway; the struggles of those who have tried to establish commercial enterprises in remote places; and the determination of early scientists and surveyors such as Goyder and Madigan, are all to marvel at. Years ago I became familiar with the work of CSIRO Land Research surveys of northern and central Australia initiated post WW2 to better understand interrelations of geology, landforms, soils and vegetation. To pass through landscapes surveyed by these teams including one by a mentor, Jack Mabbutt, brought back memories of the "big picture" approach to regional physical geography.
Although we missed much scenery as the train ploughed north during the night, there was still a lot to see and digest. In the south the transition from farmland north of Adelaide to more pastoral country towards Port Augusta made me acutely aware of the brilliant insights of Goyder. He captured in the 1860s the limits to arable agriculture sustainable during drought periods. The heartbreak to those who tried to farm north of the "Goyder Line of Rainfall" was brilliantly described by Donald Meinig in "On the Margins of the Good Earth" (1962). The vision of the Flinders Range to the east reminded me of maps showing complex folded stratigraphy illustrated by Twidale and others in geology and geography textbooks.
A profusion of wind turbines on hill country cleared of timber in this part of southern South Australia stands in stark contrast to the continued drive to extract oil and gas to the north. Near Port Augusta the massive solar-thermal energy complex, including the prominent Aurora tower that forms part of Sundrop Farms, captures our imagination on the nations capacity to produce renewable energy. However, later we pass by the oil and gas field of the Amadeus Basin and then the controversial Beetaloo Basin gas reserves subject to debate on impacts of fracking. Fossil fuel use is now a major part of NT and Darwin's economy especially as a result of the new huge INPEX gas facility. There is little doubt that this nation has contrary approaches to energy generation and emissions control.
Landform diversity as seen from the Ghan trip falls into several parts. For long periods our ancient lands form flat plains allowing the massive twin engines to reach speeds of up to 115km/hr. Near Marla the red ironstone soil is vegetated by scattered mulga scrub. Low mesa residuals capped by duricrust stick out. This is replaced by linear vegetated dunes reminding me of field work by Madigan in the 1930s on the Simpson Desert dunefield. At the Finke River an announcement was made that this was one the oldest rivers in the world. It drains south towards Lake Eyre from the Macdonald Ranges that were uplifted in the late Palaeozoic. We had previously visited these ranges near Alice Springs in 2016 and it was good to see again those ancient gaps exposing tilted strata. The stop at Katherine gave us an opportunity to look at other types of geology and landforms. Along the railway there were outcrops of limestone and granite, but the highlight was Nitmiluk where ancient deltaic sequences known as the Kombologie Sandstone of upper Proterozoic age are carved into majestic gorges over 20myr old. The rocks are tightly jointed at scales that influence the course of the river entrenched into the western edge of the Arnhem Plateau. In the wet season the gorge experiences massive discharges documented by Baker and Pickup in 1987 (Geol. Soc. America Bull, 98). Most impressive are the sheer faces of sandstone subject to seepage and iron oxidation. Division by a cataract of boulders into what is known as First Gorge and Second Gorge requires visitors to transfer from one boat to another; we were informed that the lower gorge now gets visits from a growing number of saltwater crocodiles to accompany their smaller freshwater cousin, so water skiing is now banned!
At either end of this trip are coastal systems that had to be looked at. We visited Glenelg travelling on that wonderful tram from the Adelaide CBD. Sand transport from south to north has long caused headaches for coastal managers in Adelaide; it is always interesting when flying in or out of this city to see the discontinuities in the beach due to the presence of coastal works. Many studies and lots of money go into restoring sections of the beach system now involving sand pumping from Glenelg to Kingston. On this occasion what got my attention was harvesting of "wrack" (sea grass) washed up on the beach. Large trucks were lined up to cart away mounds of wrack from the back of the beach between the pier and the Glenelg breakwater.
We had limited time to visit coastal sites at Darwin. However, staying close to Mindil Beach allowed us to witness the rise and fall of the 6-7m tides across a ridge and runnel beachface. Its carbonate-rich sands are littered with rocks of varying size derived from an eroding cliff face and shore platform carved into Cretaceous rocks. This beach is famous for its markets where people gather to watch the sunset and even clap its disappearance!
I became aware of several studies of the geology and geomorphology of Darwin's landforms and ecosystems. In 2003 Nott (Quaternary International, v.103) described the urban geology pointing out how weathered Cretaceous sediments unconformably overly the lower Proterozoic folded rocks expressing a huge age difference of 100myr to 1.6byr. Young and Bryant in an excellent paper in 1998 (in U of Wollongong Research Series Online) examined the nature of weathering features in the shore platforms. I got excited to see beach rock at Fannie Bay; here my graduate supervisors from LSU, Richard Russell and Bill McIntire in 1965 (Geographical Review, v.55), commented on what they termed "instructive exposures". This occurrence is now mapped on the local geological sheet as carbonate cementation of ironstone pebbles and coral fragments.
Of interest are the stunted mangroves (Avicennia & ?Ceriops spp.) growing in crevices on shore platforms at Mindil Beach and East Point. Unfortunately time did not permit a closer look at other mangrove communities such as at Rapid Creek. Much has been written on mangroves in the NT including Darwin (e.g. G. Lee ed., DIPE Report 25/2003D; Woodroffe, 1995, E. S. P. & Landforms, v.20). Atchison in Urban Science (2019, v.3) has raised important questions on how locals now perceive the value of mangroves in Darwin as part of the blue economy debate given destructive effects of industrial and urban growth. This offers another example of contested space in coastal areas.
All in all a most educational and enjoyable excursion from coast to coast stimulating much thought.
Bruce Thom
Words by Prof Bruce Thom. Please respect the author's thoughts and reference appropriately: (c) ACS, 2023. For correspondence about this blog post please email admin@australiancoastalsociety.org.au
#244